Bumper summer for Scottish airports continues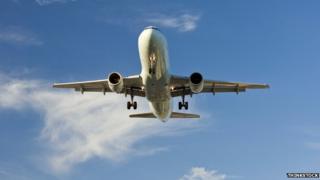 Scotland's airports are continuing to enjoy a bumper summer, following another surge in passenger numbers.
Edinburgh Airport said more than 1.1 million passengers travelled through its terminal in July - a record for the month.
Glasgow Airport recorded its busiest July in six years, with more than 840,000 passengers.
And Aberdeen Airport reported a year-on-year rise of 9.2% in traffic last month.
Edinburgh said a total of 1,104,264 people passed through the airport in July - an increase of 1.8% on the same period in 2013.
International passenger numbers were up by 4% on the previous year, with just over 661,000 passengers, while domestic traffic fell by 1.3% to 443,000 people.
The airport's operators said international traffic was driven by Scots flying off on their annual summer holidays to traditional sunshine destinations like Portugal, Spain and Majorca.
In June, Edinburgh become the first Scottish airport to handle more than 10 million passengers over a 12-month period.
'Another milestone'
Airport chief executive Gordon Dewar said: "Breaking the 1.1 million passenger mark in July was another milestone for us and I'm delighted to be celebrating this with our teams across the airport who work hard to give passengers a great experience.
"To put it into context, the 1,104,264 airline tickets we processed in July could stretch almost twice the height of our air traffic control tower.
"The next few weeks and months will be hugely exciting for us as we welcome passengers from all over the world to Scotland for our famous festivals and the Ryder Cup at Gleneagles."
Glasgow Airport recorded its 18th consecutive month of growth, with passenger numbers up by 1.1%.
Glasgow and Aberdeen airports were recently put up for sale by owners Heathrow Airport Holdings (HAH).
'Extremely pleasing'
Glasgow Airport managing director Amanda McMillan said: "To have recorded our busiest July in six years was extremely pleasing but it was a memorable month for so many reasons.
"From a route development perspective, we made a number of significant announcements, none more so than the news Ryanair will join us in October.
"The highlight, however, was serving as the gateway to the Commonwealth Games which were a resounding success.
"It has always been the case that when the city does well, the airport does well and with events such as the World Pipe Band Championships, the Ryder Cup and MTV European Music Awards all still to come, both the city and the airport have much to look forward to."
'Healthy business'
Aberdeen International Airport welcomed its healthy rise in traffic, with helicopter passenger numbers rising by 5.1% and domestic (fixed wing) passengers climbing by 8.4%. International traffic also rose by 12.9%.
Managing director Carol Benzie said: "Not only have we recorded growth for the past month but this growth has touched each sector of our operation which demonstrates that we have a healthy, growing business.
"This is incredibly encouraging and shows, yet again, the buoyancy of the region.
"We have recently felt the impact of the summer holiday getaway and the increase in charter flights, as well as other growth through the business, provides a real boost to the airport and to the passengers."