Small firms urge action over 'confusing' tourism support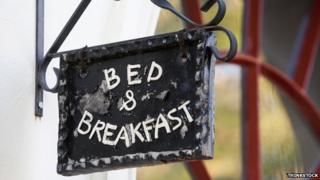 Publicly-funded bodies need to work more closely together to help hard-pressed local tourism businesses in Scotland, according to a new report.
The Federation of Small Businesses in Scotland (FSB) said the sector was performing well and looking to grow.
But it argued small enterprises were being held back by an "overly complex, confusing, poorly communicated and disjointed support landscape".
Poor digital connectivity and energy costs were also cited as challenges.
The FSB report argued that Scotland's national tourism strategy, drawn up two years ago, was "focused on the right areas" and addressed previous failings by putting industry in the driving seat.
But it reported it had found low awareness of the strategy among tourism businesses, which it said raised questions around how an industry-led approach should be delivered in a sector "dominated by time-pressed small firms".
'Diverse sector'
The analysis suggested tourism was a highly diverse sector, dominated by micro-businesses, with an average workforce of eight employees.
It found small firms made limited use of business finance and were "largely distant" from the support available from the public and private sector.
The report argued there was no shortage of direct or indirect support on offer, including from Business Gateway, VisitScotland, local authorities, enterprise bodies, Tourism Intelligence Scotland and Skills Development Scotland, as well as sector-specific trade bodies.
But it claimed that the number of public and private bodies delivering support had created "a complex and confusing system".
The report, which was based on contact with 500 businesses, 30 local councils and other public bodies, found that less than half of tourism firms had used support in the past 12 months.
It recommended: "Pooling resources to create joined-up services locally and regionally, in collaboration with industry, would create simpler and more accessible business support and maximise the economic impact from public expenditure."
FSB Scottish policy convener Andy Willox said: "If Scotland wants to boost tourism spending we must tap the potential of our smaller tourism businesses. Their diversity should be regarded as a strength - not an inconvenience."
He added: "There's no doubt that there's some good public sector support on offer for Scottish tourism businesses, but our report shows that businesses are confused about who does what.
"While of course it's up to businesses to look for the help they need to get the edge, publicly-funded bodies need to work more closely together and deliver a consistent joined-up message to busy, hard-pressed local tourism businesses."
'Crucial role'
Tourism Minister Fergus Ewing said: "Scotland's small businesses play an crucial role in driving growth in the lucrative tourism sector, which is helping to enhance Scotland's reputation as a leading tourism destination.
"£8.4bn is currently invested in Scotland's tourism industry, the number of overseas tourists has increased by 13% to 2.5 million in the year to March 2014, and spending by overseas tourists by 14% to £1.6bn in the same period. The domestic tourism market is also performing strongly."
He added: "With Scotland being showcased around the world, there has never been a better time to capitalise on this increased awareness looking towards 2015 and beyond.
"It is important that we assist our small businesses to capitalise on our enhanced profile to build a bright and secure future for our tourism economy."