Beef industry action plan for Scotland published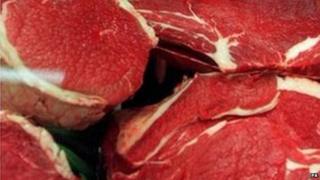 Experts have published an action plan to tackle livestock declines and low profitability in the beef industry.
A report by an industry group led by the chairman of Quality Meat Scotland said beef cow numbers had fallen by 50,000 since the last reform of the European Union's Common Agricultural Policy was implemented in 2005.
Scottish abattoirs have also seen a fall in production of 15%.
The report puts forward 23 recommendations for the industry.
They include measures to improve animal health, reduce climate change impacts and grow cattle numbers.
The group says the plan could boost productivity in the sector from 87% in 2012 to 94% by 2020 and increase cow numbers by 10% within 10 years.
'Practical and achievable'
Rural Affairs Secretary Richard Lochhead, who requested the report, welcomed its "practical and achievable" recommendations.
He said: "Beef production is the powerhouse of Scottish agriculture.
"It is our single biggest farming sector and makes up more than a quarter of Scottish agricultural output.
"That is why it is so essential that government, industry organisations and beef producers work together to overcome the challenges the sector is facing - which include declining livestock numbers and low profitability - and to make the most of markets opening up for our world-class beef."
He added: "I have already committed to providing an extra £45m of Scottish government funding to the next Scottish Rural Development Programme specifically to drive forward efficiency measures in our beef sector and I am determined that this unprecedented level of support will be deployed to maximum effect."