Scottish engineering orders hit by further dip in exports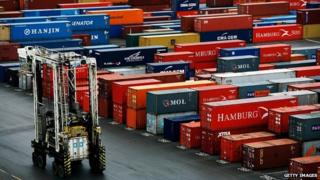 Scottish engineering firms have reported a fall in orders for the first time in six quarters, as exports continued to slip.
Industry body Scottish Engineering's latest quarterly review also found output and prices dropped over the last three months.
Exports fell again after three previous negative quarters.
The review suggested economic fragility around the eurozone and a slowdown in Chinese growth were factors.
Total order intake moved into negative territory for the first time since September 2013.
Exactly one-third of the companies surveyed increased their orders over the quarter, while 37% reported a fall.
Within the sectors, more firms in electronics and mechanical equipment registered a drop in orders, but positive results were reported by fabricators, metal manufacturing and transport companies.
However, the forecast for the next three months in overall orders was much more positive.
Domestic trade
In general terms, optimism among firms remained positive, albeit less so than the previous quarter.
Scottish Engineering chief executive Bryan Buchan said: "The recovery in the US, which I believe is largely driven by domestic trade, is being aided by the effect on energy costs of fracking.
"This is offset by the remaining fragility around the eurozone, with individual countries still in a perilous economic situation, worsened by relatively high wage inflation in France and Italy in particular over recent years."
He added: "The whole adverse mix is exacerbated by the effect of sanctions on Russia, compounding their economic decline, and a slowdown in Chinese growth caused by an apparently untenable debt-to-GDP ratio."
Mr Buchan said it was possible there had also been a seasonal dip in activity throughout the manufacturing sector.