Scottish manufacturers report lowest orders in UK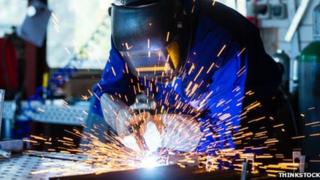 Scottish manufacturers have reported the lowest orders and employment of any part of the UK over the last three months, according to a survey.
The quarterly Manufacturing Outlook survey by EEF, the manufacturers' organisation, shows firms in Scotland have the weakest predictions on output.
However, they are more optimistic about orders and employment in the coming quarter.
The survey took place in August.
On orders, the difference between firms expecting a rise in the fourth quarter and those forecasting a fall was 25 percentage points.
But the survey showed more firms had reduced orders than had seen them increase, and there was a much smaller positive gap on output than in the rest on the UK.
Some of the strongest figures were from eastern England and from Yorkshire.
'Cautious approach'
The survey was also carried out with accountants BDO.
Its Scottish chief said: "Although these figures are more muted than previous quarters this is perhaps to be expected as the economy has cooled somewhat over the last few months.
"A cautious approach is be expected as manufacturers are aware of the fluctuating nature of the market and must moderate their forecasts accordingly."
"There is a mixed international outlook and, a deteriorating situation in the Eurozone in particular, so a strong recovery in exports this year is still uncertain.
"Manufacturers have successfully ridden out the economic storm of the last seven years so they understand how to effectively balance investment against expectations."
EEF chief economist, Ms Lee Hopley said: "Growth in manufacturing remains positive but is now understandably returning to more moderate and sustainable levels as the pent-up demand which built up during the recession begins to expire.
"However, there are clearly increasing downside risks overseas which could threaten the pattern of growth."