Container group Ferguson bought by Australia's Brambles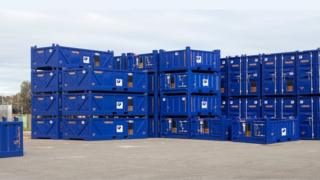 Aberdeenshire-based container business Ferguson Group has been bought by Australian logistics specialist Brambles, in a deal which values Ferguson at £320m.
Brambles will fund the transaction from existing debt facilities.
Ferguson operates a fleet of about 18,500 containers for the offshore oil and gas sector.
It has regional hubs in the UK, Norway, Singapore, Australia and the United Arab Emirates.
The Kintore-based company currently employs more than 200 people worldwide and has posted compound annual sales growth of 11% since 2009, according to Brambles.
Brambles, which has more than 14,000 staff and owns about 470 million pallets, crates and containers through a network of centres in more than 50 countries, said the deal would allow it to expand its specialist containers business.
Ferguson Group founder Steven Ferguson said: "As a proprietary standalone business, the Ferguson Group has grown very significantly in recent years and it was becoming clear that in order to maintain this momentum in the current market, new sources of finance and access to skills was required.
"The time is therefore right for some new owners for the group, owners with the status and financial muscle of Brambles which will enable the business and the people within it, to continue to flourish and grow as part of a broader listed entity."
The deal is expected to be concluded by the end of this month.