Scottish housing market 'more resilient than elsewhere in UK'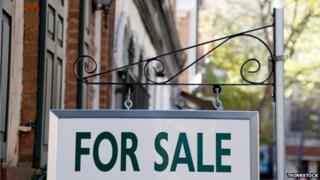 The Scottish housing market has lost some momentum but continues to show "greater resilience" than other parts of the UK, according to surveyors.
The Royal Institution of Chartered Surveyors (Rics) said activity last month was affected in part by a rise in the time taken to process transactions.
But more surveyors reported a rise in property prices, while new buyer demand remained firm.
This was in contrast with a "mixed picture" across the UK as a whole.
According to Rics' latest residential market survey, properties coming onto the market in Scotland remained in positive territory in August, with 7% more surveyors reporting an increase in new stock coming onto the books.
This compared with the UK average of 11% more surveyors reporting a decline in supply.
Demand for new homes in Scotland also bucked the UK trend, with a net balance of 52% more surveyors seeing a rise in new buyer demand.
Transaction times
However, surveyors also cited a combination of factors which were adding between two and four weeks to the average time taken to complete a transaction.
They included an "increasingly acute" shortage of conveyancers and the implementation of the Mortgage Market Review (MMR).
The review has meant mortgage applicants face tougher questions about their lifestyle to ensure they can afford the mortgage they are applying for.
Rics Scotland director Sarah Speirs said: "The Scottish housing market continues to show a greater degree of resilience compared to elsewhere in the country, with more stable price trends and firmer demand, reflecting that affordability is rather less stretched.
"Some of the momentum has come out of the housing market in Scotland of late, reflecting in part concerns over a likely rise in the cost of borrowing at some point in the not too distant future.
"However, we are also being told that the implementation of the recommendations of the MMR is taking its toll on activity and slowing the transaction process by on average up to a month."
"Looking ahead, there are increasing signs that the Scottish market is gradually moving onto a more sustainable footing and we now need investment in regeneration and creation of new stock in order to keep prices at a sustainable level."