Scottish independence: Shop costs warning over 'Yes' vote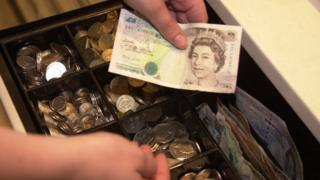 The bosses of three major retailers have warned that Scottish consumers could face higher prices if Scotland votes for independence.
In a joint letter, the heads of Timpson, Marks & Spencer and Kingfisher said cross-border trading "leads to more red tape and higher costs".
They said that would mean "taking the difficult decision" on whether or not to pass on those costs to consumers.
Yes supporters condemned the warnings as bullying and "scaremongering".
The letter was published as several leading phone companies warned that Scottish independence could lead to increased costs in the telecommunications industry.
'Greater complexity'
The pro-Union letter, published in the Daily Record, follows warnings from other retailers - including the former head of Sainsbury's, Justin King, Asda and John Lewis - that independence would bring higher costs. They have yet to spell out what impact, if any, that would have on prices.
The three retail chiefs who put their name to the latest warning were Sir Ian Cheshire, group chief executive of B&Q owner Kingfisher, Timpson chief executive James Timpson and Marc Bolland, chief executive of Marks & Spencer.
The letter read: "We are concerned about the greater complexity of trading across a national border coupled with the uncertainty over big issues such as the single currency and membership of the EU.
"The Bank of England and the government have said there will be no currency union with the pound and an independent Scotland would have to find an alternative.
"Additionally the EU commission has indicated that Scotland would have to re-apply for membership and may require a number of changes to achieve membership."
'Difficult decision'
It added: "Within our group there is first-hand experience of trading across national borders - in France, Ireland and across the world. Our experience is that it always leads to more red tape and higher costs and we feel it is important to share this experience.
"We know that running a separate pricing system in Scotland will mean taking the difficult decision as to whether or not to pass on the increased costs through higher prices to Scottish consumers.
"And it won't just affect us, it will also impact on our thousands of suppliers, many of which are small to medium-sized businesses."
Yes campaign supporters Business for Scotland accused Prime Minister David Cameron of using his office "to pressure food retailers to peddle scare stories".
'Dirty tricks'
Chairman Tony Banks said: "It's dirty tricks and low dealing from the prime minister and shows that there is sheer panic at the heart of the No campaign.
"We've seen quite enough of well-heeled employers trying to scare their employees into voting No and it stinks when a millionaire politician thinks it's acceptable to scare the poor with threats about food prices and I'm disappointed that Alistair Darling has allowed the campaign he leads to be associated with this."
Mohammed Ramzan, chairman of United Wholesale Grocers, also described the claims as "scaremongering".
The entrepreneur, who has lived in Scotland since 1974, said: "I am hugely disappointed with the scaremongering on food prices in an independent Scotland - there is just no truth in these claims.
"My business supplies to 4,000 corner shops and 2,000 carry outs - as well as owning 275 stores - and regardless of the outcome of the referendum I am planning to reduce prices in my shops over the next five years."
Telecoms letter
In a separate development, several telecommunications chiefs have warned that independence could lead to increased costs for the industry.
An open letter signed by the chief executives of BT Group, TalkTalk Group, Telefonica UK (O2), Vodafone UK, EE and Three UK said a number of "strategic and operational" factors would need to be resolved for their businesses.
It warned they may need to modify networks and consider whether to modify the services offered in an independent Scotland.