Housebuilder Miller Homes announces plans to float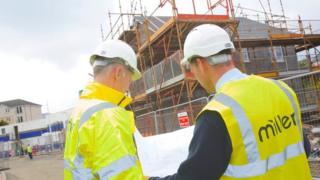 Miller Homes has announced plans to float on the London Stock Exchange next month.
The Edinburgh-based housebuilder hopes to raise about £140m by selling off at least 40% of the company through an initial public offering (IPO).
The move would value the company at about £450m.
Miller said it would use the proceeds to reduce debt, increase operational flexibility and take advantage of future growth opportunities.
The company recently announced a sharp rise in house completions for the year to the end of June.
They were 28.2% higher at 855 units, driven in part by a strong opening order book.
Commenting on the IPO announcement, Miller Homes chief executive Chris Endsor said: "Our distinctive focus and deep knowledge of the regions in which we operate, together with our large and well-located strategic land bank, position Miller Homes to drive strong and sustainable growth and to benefit from the continued recovery in these regional markets.
"It is an excellent time to be operating in the housebuilding sector, with demand for new housing continuing to grow supported by improving macroeconomic conditions and mortgage market and a more favourable planning environment."
Miller Homes focuses its operations in central southern England, the Midlands, the north of England and central Scotland.
Its parent company, Miller Group, was founded in Edinburgh in 1934 and initially focused on housebuilding in and around Edinburgh before expanding into England in the late 1940s.