Michelle Mone's lingerie firm MJM International reports losses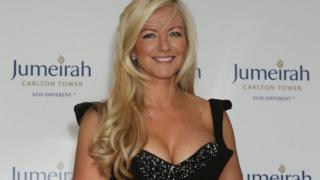 The lingerie firm run by Scottish entrepreneur Michelle Mone registered major liabilities before it ceased trading, according to filed accounts.
MJM International had net liabilities of more than £287,000 at the end of December 2013, having recorded assets of nearly £500,000 the previous year.
The accounts, filed with Companies House, also show Ms Mone lent more than £40,000 to the company during the year.
Its assets were later moved into parent firm Ultimo Brands International.
Ms Mone co-founded MJM International with her ex-husband Michael in November 1996, and created brands including Ultimo Miracle Shapewear, Ultimo Swimwear and Miss Ultimo.
Last year, she announced he had left the company following a breakdown in their marriage.
Ms Mone then forged a business partnership with Sri Lanka-based lingerie group MAS Holdings, which has a majority stake in Ultimo.
Business 'on target'
In a statement released on Friday, Ms Mone said MJM's performance was "no reflection of the performance of Ultimo".
Ms Mone said: "The performance of MJM International, which has now ceased trading, is no reflection of the performance of Ultimo.
"Ultimo now operates under the trading name Ultimo Brands International. The company's balance sheet is in a strong position and the business is on target to return to profitability next year.
"I am incredibly excited about the future of Ultimo.
"We are expanding rapidly, with a pipeline of 12 new stores opening across the UK in the next 12 months."
An Ultimo spokeswoman added: "Ultimo's balance sheet reflects Michelle Mone and MAS Holdings' continued investment in the business.
"As a result of this investment, we have more than doubled our workforce since the change of ownership and laid plans to expand internationally."