More UK government backing for renewable energy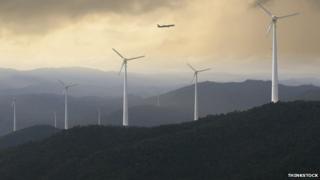 The first round of new subsidies being auctioned to renewable energy producers has been boosted by the UK government by £95m to £300m.
Most of that is directed at technologies that are further from being commercial, including offshore wind, wind and wave power.
Onshore wind turbines and solar power will compete for £65m of that, though the Department for Energy and Climate Change is pulling back on its support for large-scale solar.
The remaining £235m will be auctioned in 'contracts for difference' - a guaranteed minimum price for each technology.
Wind farms on Scottish islands are not included in the first round of auctions, but may be in future ones. These are seen as being at a disadvantage because of the cost of installing sub-sea cables into the mainland grid.
Subsidy for that is still awaiting State Aid approval from the European Commission.
Industry body Renewables Scotland said the UK government has to redouble its efforts to ensure the island cables get the go-ahead before the second allocation round next year.
The additional funding to support the new system of subsidising renewable energy through customer bills has been made possible through the older system of Renewables Obligation costing less than anticipated.
Ed Davey, the Energy Secretary, commented: "Average annual investment in renewables has doubled since 2010 - with a record breaking £8bn worth in 2013. By making projects compete for support, we're making sure that consumers get the best possible deal as well as a secure and clean power sector."
Among the changes being introduced is a policy shift to encourage more businesses to install solar cells on the roofs of buildings, after slow uptake of that option.
The government wants to make it easier for them to move the solar cells along with their subsidies when such businesses move premises.