Scottish craft brewers in mission to North America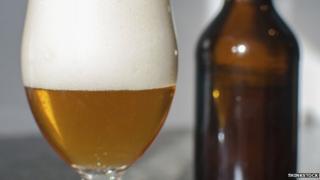 A group of Scottish craft brewers has arrived in North America in a bid to break into the continent's lucrative market.
Ten firms will spend five days in Boston, USA, and Toronto, Canada, to raise awareness of the Scottish sector.
The mission, led by Scottish Development International (SDI), is the first of its kind for the sector.
During the trip, they will seek advice from brewers, industry experts, buyers and importers on accessing the market.
North America has been identified as a major target market for the Scottish craft brewing industry, following the international success of Scottish companies such as Brewdog, Innis & Gunn and Harviestoun Brewery.
'Priority market'
The companies taking part in the mission are Glasgow-based West Brewery, Loch Ness Brewery, Loch Lomond Brewery, Highlands-based WooHa Brewing Company, Eden Brewery of St Andrews, Argyll-based Fyne Ales, Crawcraft, Thistly Cross Cider Co of East Lothian, The Craft Beer Clan of Scotland and Spey Valley Brewery.
Susan Beattie, head of food and drink at SDI, said: "The Scotland Food and Drink Export Plan identified North America as a priority market for Scottish producers, and highlighted the need to build relationships with key trade contacts and raise awareness of Scottish capabilities in this market.
"We have developed this programme to equip these companies with the knowledge and skills to effectively target the North American market and take advantage of growing consumer demand for Scottish produce."
The US beer market is estimated to be worth nearly $100bn (£62bn) , with craft beer making up approximately 15% by volume and 17% by value.