ONS: Scottish youth unemployment at six-year low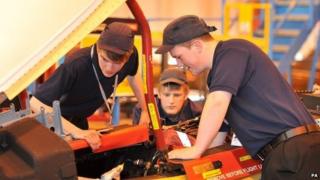 The number of jobless young people in Scotland has fallen to its lowest level for six years, according to new data.
The Office for National Statistics reported that the youth unemployment rate stood at 16.7% between June and August - 5.6% lower than a year ago.
The UK rate fell by 5.1% over the same period and now stands at 17.2%.
There are now 72,000 unemployed young people in Scotland - a drop of 29,000 on the same period last year.
The number of young people claiming Jobseeker's Allowance also fell over the year by 9,900 to 20,200.
First Minister Alex Salmond welcomed the figures.
'Positive sign'
He said: "These figures are another positive sign that youth employment in Scotland continues to increase and demonstrate that Scotland's economic recovery is ongoing.
"Scotland now has a higher employment rate, lower unemployment rate and lower inactivity rate for young people than the rest of the UK."
He added: "These figures also show that Scotland compares well internationally and remains among the top 10 best performing countries in the European Union for youth unemployment."
Scottish Labour's deputy finance spokeswoman Jenny Marra MSP said: "A drop in youth unemployment is welcome but the Scottish government's target should be to eradicate youth unemployment in Scotland."
She said it was important to ensure that the jobs being created paid the living wage and were not insecure, part-time or zero-hour contracts.