Energy tech services firm Proserv sold to US investor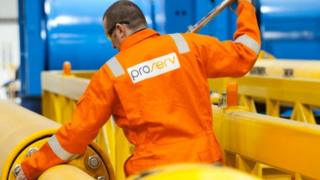 Aberdeenshire-based energy services company Proserv is being sold to a US private equity investor in a multi-million pound deal.
Riverstone Holdings has agreed to acquire 100% of Proserv shares from Intervale Capital and other stakeholders.
The exact value of the deal has not been disclosed.
Under the agreement, Proserv will continue to operate as an independent company.
Westhill-based Proserv specialises in providing technical solutions and services to the drilling, production, subsea and marine markets.
Proserv, which has more than 2,200 employees worldwide, has seen turnover leap by 168% over the past three years to $426m (£265m), as a result of a series of acquisitions and strong organic growth.
Proserv chief executive David Lamont said: "Riverstone has an impressive track record of backing oil and gas-focused companies, with their high-profile portfolio including independent operators and energy service companies."
John Lancaster, a partner at Riverstone Holdings, added: "Proserv is a strong and emerging player in global offshore subsea services and equipment sector, where we believe capital spending and activity levels will grow over the long-term as companies like Proserv provide increasingly innovative, cost-effective solutions to offshore oil and gas producers."