House prices in Scotland at highest level for 11 years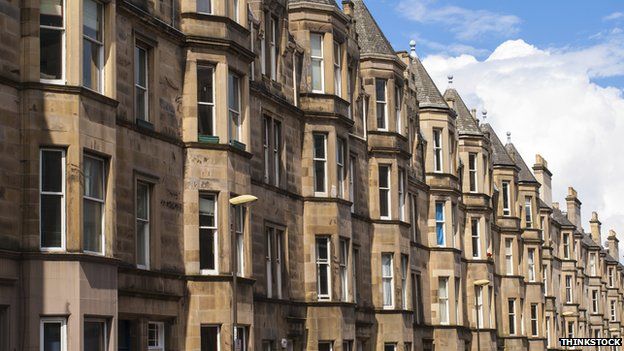 House prices in Scotland have risen to the highest level for 11 years, according to the Registers of Scotland.
The average price of a home is now just over £170,000.
This is the most expensive since quarterly statistics were first complied in 2003 and represents a 5% rise over the past three months.
Edinburgh has the most expensive properties, while the cheapest on the mainland are in West Dunbartonshire.
The cheapest properties overall were in the Western Isles.
There was also a 9% rise in the number of homes changing hands in the three months to the end of September compared with the previous year.
Kenny Crawford, the Registers of Scotland's director of commercial services, said: "This is the second consecutive quarter in which the annual increase in average house price has risen by over 5%, bringing the average property price above pre-economic downturn levels, to just over £170,000.
"This, combined with the increase in sales volumes, has brought the total value of sales across Scotland to just under £4.5bn for the quarter, up 14.8% on the same period last year."
Renfrewshire recorded the highest percentage rise in average price compared with the same quarter of the previous year, up 17.2% to £137,072.
In Edinburgh, the average cost of a property was £235,402, a rise of 5.6% compared with the same quarter in the previous year.
The largest percentage fall in price was on the Shetland Islands, which showed a drop of 8.6% with an average price of £126,089.
Registers of Scotland is the government body responsible for compiling and maintaining registers relating to property and other legal documents in Scotland.
The housing statistics cover all residential sales, including those that did not involve a mortgage.
Related Internet Links
The BBC is not responsible for the content of external sites.