Shopping by tablet 'set to surge at Christmas'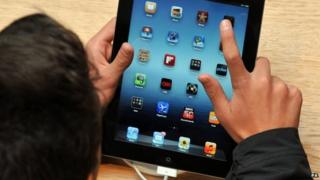 The number of Scots who use tablets to shop is expected to soar this Christmas, according to a survey of retailers.
Financial services provider Barclays found retailers were expecting to see growth across all of their sales channels over the festive period.
But 38% of respondents forecast tablets would provide their main sales growth.
That compared with 18% who expected stores to drive sales and 17% who identified smartphones.
Multi-channel retailers also said they believed that shopping for gifts via social networking sites, while still in its infancy, could increase by a fifth compared with last year.
The survey also found that 69% of Scottish respondents were feeling more upbeat than last year about Christmas trading.
Barclays said its findings were in line with improving economic conditions and a healthy year of trading.
Euan Murray, from Barclays in Scotland, said: "2014 has been a good year for many retailers thanks to heightened consumer confidence, and this is clearly reflected in their brighter outlook for the Christmas season.
"It's interesting to see that purchases on tablets have been cited as retailers' biggest opportunity for growth and social commerce is also one to watch in the future, as 'buy buttons' on social networking sites will make online shopping even more accessible."
The survey also suggested that traditional American shopping days were becoming increasingly popular in Scotland.
Nearly two-third of retailers said they were planning Black Friday promotions on 28 November, the day after Thanksgiving, which is one of the most important shopping days in the US retail calendar.
Nearly all (97%) of the retailers questioned also predicted a year-on-year increase in traffic to their online sites on Mega Monday, which is traditionally the busiest online shopping day in America.
Mega Monday is set to fall on 1 December.