Scottish Renewables proposes 'green bond' for savers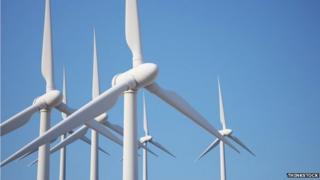 The renewable energy sector has called for a special "green bond" to be set up which would allow savers to invest in the technology.
The proposal has been floated in a Scottish Renewables "blueprint" for next year's general election.
Its manifesto argues that a green bond could offer savers across the country "a decent return" on their money.
It also claims the bond would provide the renewable sector with cash which is needed to invest in infrastructure.
Scottish Renewables proposed that the Edinburgh-based Green Investment Bank would oversee the scheme.
The industry body said some specialist investment funds were already available on the stock market, but the green bond scheme would be open to all savers.
'Opportunity for savers'
Scottish Renewables chief executive Niall Stuart said: "It's time to give every saver in Britain the opportunity to invest in, and to benefit from, the continued growth of the green energy sector.
"The UK needs to invest tens of billions of pounds in the energy sector over coming years - firstly just to keep the lights on and secondly to continue the move away from fossil fuels to cleaner sources of energy.
"New power generation, transmission lines and renewable heat projects all require big capital investment up front, but could offer savers a decent return on their money over the life of the project, certainly beating the record low interest rates on savings accounts today."
In its manifesto, the organisation also sets out the industry's priorities for the coming parliamentary term, including the need for a continued focus on reducing climate change emissions from the energy sector and more focus on renewable heat and renewable transport.
It also wants an energy summit between the UK government and the devolved administrations to be held every three years.
'Bumper month'
In a separate development, renewable energy campaigners claimed October was a "bumper month" for the sector in Scotland.
WWF Scotland said wind turbines generated an estimated 982,842 megawatt hours (MWh) of electricity last month - enough to power 3,045,000 homes and the equivalent of 126% of the electricity needs of every home in Scotland.
WWF Scotland analysed figures from the WeatherEnergy organisation, looking at the estimated amount of power produced by the wind and the sun in Scotland.