Edinburgh and Aberdeen have 'most expensive' postcodes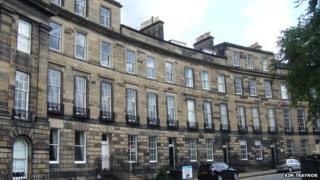 Scotland's most expensive postcodes are in Edinburgh and Aberdeen, according to official figures.
The two cities accounted for most of the 92 properties sold for more £1m in the first nine months of the year.
Registers of Scotland (RoS) found 51 of these had an Edinburgh postcode, while 21 were sold in Aberdeen.
The New Town in Edinburgh saw the highest number of high-value properties changing hands, with nine sales ranging between £1m and £1.8m in EH3.
The next three most expensive postcodes were all in the south-west of Aberdeen, covering areas such as Cults, Rubislaw and Milltimber.
Sixteen properties across three AB15 postcode sectors sold for between £1m and £2.2m.
Five of the six remaining top ten most expensive postcodes were claimed by Edinburgh, with 18 properties selling for between £1m and £2m.
'No surprise'
Hugh Welsh, head of data at RoS, said: "It won't come as a surprise to many that Scotland's capital city and Aberdeen dominate the over-£1m property market.
"It's interesting that Aberdeen's most expensive properties are all within two postcode sectors, whereas Edinburgh's are dotted across the city in areas like the New Town, Colinton and the Grange.
"Of course, there are exceptions - within the same period this year, we've seen a house in Haddington sell for £3m, and another in St Andrews for £2.6m, but one-offs like these tend not to represent a collection of high-value properties in one area."
Top 10 most expensive postcodes
Postcode sector
Number of sales
Average price over £1m
EH3 6
9
£1,295,000
AB15 5
6
£1,252,500
AB15 9
5
£1,400,884
AB15 4
5
£1,392,255
EH4 1
4
£1,320,000
EH9 2
4
£1,298,194
EH13 0
4
£1,135,000
AB13 0
3
£1,355,567
EH12 6
3
£1,215,000
EH12 5
3
£1,191,667