The law of the jungle as legal firms battle changing economy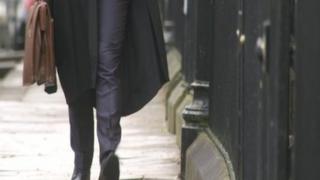 Scotland's law firms are having to change fast to cope with a changing economy. In recent years, some of the best-known firms in the country have been bought up, or have merged with rivals - and one has even gone into administration. Our business correspondent David Henderson reports on how the legal profession is having to face new challenges.
The centre of Edinburgh is a draw for tourists and shoppers alike. But as they stroll along these streets, they mingle with men and women in suits. It's a reminder that for all its charm, Scotland's capital is a place of business.
And advising the companies based here - and beyond - are dozens of law firms, some dating back several generations. But even the oldest of these partnerships can't avoid the need for change, forced on them by the state of the economy.
Take the tram west from Princes Street, and you can hop off at the elegant Atholl Crescent, outside Scotland's largest law firm, Brodies.
This commercial firm has grown in recent years, expanding its footprint with offices in Glasgow, Aberdeen and Brussels. Its managing partner, Bill Drummond, told me the legal profession has changed much over the past two decades, and so has his firm.
"What's happened recently of course has been the credit crunch, through late 2007 to 2008, and the huge change to the banking sector," he said.
"That, and the recession which followed, has been the single thing you can point to as having brought to the surface underlying problems within all sorts of different sectors. But, perhaps in aspects of the legal sector, that's been the main reason for the radical change we've seen recently."
He said Brodies "seeks to change in line with the needs of our client base, and the Scottish economy - our marketplace. So change is constant in the legal profession, and it's something at Brodies which we like to embrace, work with, and try and make sure we're relevant to the market and our clients at all times".
'Jobs will go'
But some Scottish legal firms have not been able to change fast enough to cope with the changing market conditions brought about by the credit crunch.
Half a mile from Brodies stands what used to be the office of Tods Murray, a big commercial law practice dating back 160 years. That history - and a £13m pound annual turnover - couldn't save Tods Murray.
The firm went into administration in the autumn. Now what's left has been bought by a rival, Shepherd and Wedderburn, but at a cost - 50 jobs will go.
The chief executive of the Law Society of Scotland, Lorna Jack, says the profession has faced a huge challenge over the last six years.
"Scotland, and its law firms would have done a lot of transactional work - commercial property, mergers and acquisitions, IPO work - and when all of that fell away in the autumn of 2008, firms were having to think about their strategies, going forward. First their strategy for survival, how they could ensure that they could continue their firms, when work literally dried up overnight," she says.
Now there's more work around, commercial markets are starting to move a bit, but that five years of effort to keep firms alive is what has driven a lot of the strategies you've seen adopted by law firms in Scotland."
And those survival strategies have varied from firm to firm. Some have seen cross-border mergers, so that Scots firms have become part of a much bigger international business.
'Depth of specialism'
In 2012, one of Scotland's largest firms, McGrigors, announced it was to merge with London-based giant Pinsent Masons. In May 2014, Dundas and Wilson merged with multi-national CMS Cameron McKenna.
Some mergers have a purely Scottish dimension: in August 2014, Scotland's Harper Macleod took over Glasgow-based Bird Semple.
The Edinburgh law firm, Morton Fraser, has grown in recent years by merging with smaller Scottish rivals, Skene Edwards and MacDonalds, so it now has 250 members of staff, and offices in Edinburgh, Glasgow and London.
The firm's chief executive, Chris Harte, told me its an advantage for some firms to be larger.
He said: "I don't think anyone wants to grow for its own sake. Law firms are businesses like any other. We want to succeed, and we want to be a thriving business where people want to work with us, and clients want to use our services. To do that well, we need to continue to grow, to offer the range of specialism that clients are looking for.
"We always talk about how complicated the work seems to become. And undoubtedly there is a requirement for a much greater depth of specialism than was perhaps the case 10-15 years ago. Now, that of itself necessitates growth, and a greater scale within the business.
"We've just had a constitutional referendum in Scotland but the question a lot of law firms in Scotland have had to answer is - do they see the future as part of a UK-wide provider, or as an independent Scottish firm? There is no right answer to that question, and firms will make their own answer depending on their own firm, and their own client base".
Damaging impact
The economy is now picking up, and that offers a boost to firms with private sector clients. But the downturn has had another damaging impact - this time an indirect one. Those firms which offer advice paid for by the state through legal aid are still busy, but they face a squeeze on what they are paid.
Duncan Henderson runs Inverness legal services. And he says the legal aid system is unsustainable.
"I started in a Highland law firm in 1986 and we did literally everything," he said. "The criminal legal aid was almost a service we did for the community but we could still obviously make some money.
"Partly due to the legal aid cuts - but also partly due to the trend in specialisation that runs right through the legal profession - firms are not in the position to do that, and indeed, although the legal aid board are cutting the fees for solicitors due to the shortages that they have created of lawyers doing this work, in Inverness they have had to create the Civil Legal Assistance office to cover the gaps in civil legal aid.
"The have also got the PDSO in the criminal side - so the state is now having to pay for lawyers to fill in the gaps it itself has created. I get paid £48 and hour for a High Court case - you will not get your car serviced at a garage for that price and yet when you are talking about somebody's freedom - who may or may not have done a crime - I would say that that is a very poor rate of return."
The legal aid squeeze has forced some of Scotland's criminal law firms to respond in the same way as their commercial cousins - merging to create greater scale. But challenges remain.
The law impacts on so much of life these day - and its clear that Scotland's lawyers are having to tailor their services more than ever, to the changing needs of our economy and our society. That means the profession itself is having to change, as it looks to the future.