Scottish Year of Food and Drink launched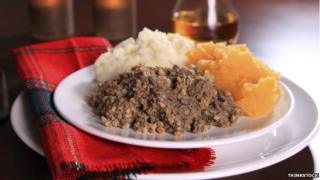 More than 200 businesses are attending the launch of a new drive to promote Scottish produce across the tourism sector.
Food Secretary Richard Lochhead is launching the Year of Food and Drink in Edinburgh.
It is being supported by VisitScotland and will include a new TV advert which will be shown across the UK.
Scotland's food and drink tourism industry is estimated to be worth £2.5m a day to the economy.
The TV advert will feature iconic images of Scotland such as the Isle of Rum, Eilean Donan Castle and the Ring of Brodgar, as well as berry-picking in Perthshire, seafood from North Berwick and entertainment from the Speyside Whisky Festival.
The Year of Food and Drink is aimed at raising awareness of Scotland's restaurants, hotels, food and drink producers, B&Bs, cafes and visitor attractions.
'Exceptional quality'
Mr Lochhead said: "Scotland's food and drink is world-renowned for its exceptional quality and unrivalled provenance, and so it comes as no surprise that it is already a big draw for visitors.
"My ambition for Scotland as a good food nation is for us all to make the most of our outstanding natural larder, which has a turnover of almost £14bn.
"The Year of Food and Drink is a fantastic opportunity to show off at home and abroad the delicious local produce we have right on our doorstep and to build on the already phenomenal success of our food and drink sector."
VisitScotland chairman Mike Cantlay said: "The Year of Food and Drink will see visitors far and wide come and sample our enticing natural larder and Scots enjoying the delicious cuisine that is right on their doorstep.
"Visitors spend a fifth of their holiday budget on eating and drinking so promoting our natural larder is a recipe for success."
The launch of the year-long event came as a leading law firm warned that food and drink success in overseas markets must be achieved "without compromising the Scottish brand".
'Real renaissance'
Brodies, which is hosting a food and drink conference in Perth next week, said the Commonwealth Games and Ryder Cup had put the sector in prime position to achieve its global export targets.
But it added that future growth could not be at the expense of Scotland's reputation as an exporter of produce of the very highest quality.
Corporate partner Eric Galbraith said: "Scotland's food and drink sector is widely regarded as enjoying a real renaissance.
"We share the sector's concern that such growth should not be at the expense of the high standards of quality associated with the national brand.
"The real test is to maintain our momentum, grow the sector and for that growth to be achieved without compromising Scottish quality and the integrity of Scotland's brand.
"The Scottish food and drink industry's reputation is not only based on the quality of its produce, but also on innovation, traceability and safety."
Earlier this year a new scheme was launched in an effort to make Scottish food and drink as well known internationally as Scottish whisky.
The Scotland Food and Drink Export Plan aims to capitalise on the industry's success by focusing on 15 key export markets.