Scots tourism bosses in London Heathrow air links warning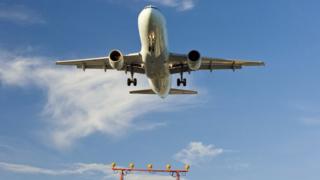 Tourism bosses are warning Scotland is losing out on millions of pounds in spending by visitors because of a lack of flights to London Heathrow Airport.
Senior executives from Heathrow and Gatwick have been in Glasgow in an effort to win Scottish support for their rival bids for a new runway.
They say an increase in capacity is vital to ease air traffic congestion in the south east of England.
They also argue it will support future growth in the UK economy.
But VisitScotland chairman Mike Cantlay has warned that the tourism industry north of the border is facing more immediate problems, due to a lack of connections to Heathrow.
His comments follow Virgin Atlantic's recent decision to axe its Little Red domestic services, which currently serve Aberdeen and Edinburgh, from next autumn.
That will leave Scottish tourism heavily reliant on British Airways, part of the One World airline network.
Mike Cantlay told BBC Scotland: "We want to make sure that every major airline servicing London and every major airline alliance, in particular Star Alliance and Sky Team, get easy access to Scotland through London."
Heathrow's new Terminal 2 is used by Star Alliance, which includes United and Singapore Airlines.
It is designed to handle up to 20 million passengers a year, but Virgin's decision will leave it without any flights to Scotland.
Expansion plans
Heathrow Airport chief executive John Holland-Kaye insists the airport is already working hard to serve the needs of the Scottish tourism industry and says Scotland is a key part of his expansion plans.
He said: "If we expand Heathrow, we will actually need more flights from other parts of the UK to support the 14 new long haul routes that we'll be trying to attract.
"That will mean we'll need more flights from Aberdeen, Glasgow and Edinburgh as well as flights from cities like Inverness."
Meanwhile, the Scottish government has said the focus should be on the continued development of direct long haul services to and from Scotland and the north of England.
Air Passenger Duty
Scotland's First Minister Alex Salmond argues that will require major changes to the way Air Passenger Duty (APD) is levied.
The aviation industry says reducing or abolishing APD would strengthen the business case for new international routes from Scotland.
Mr Salmond said: "We're actually inhibited by the concentration of international flights at Heathrow, where they can't cope because of huge congestion problems.
"It would be far better to have an effective devolution of Air Passenger Duty which would allow us to attract more direct international flights into Scotland and, indeed, the north of England."