House market activity in Scotland 'intensifies'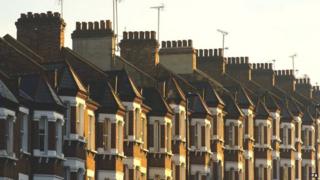 Demand for houses soared in Scotland last month, according to a report by the Royal Institution of Chartered Surveyors (Rics).
Its residential market survey suggested activity intensified after the independence referendum result, while demand dipped across the rest of the UK.
It found 81% more surveyors reporting a rise in inquiries from new buyers.
In the rest of the UK, demand dipped to a net balance of -18%.
As well as stronger interest from buyers, more than half of chartered surveyors questioned predicted a rise in sales in Scotland over the next three months.
'Surge in activity'
Rics said there was also an increase in stock coming on to the market, and that tenant demand for rented property continued to grow strongly.
Scotland and Northern Ireland had the most optimistic view on house prices in the run-up to Christmas.
Rics Scotland director Sarah Speirs said: "Despite the pick-up in the sales market, demand to rent property is growing and coupled with a drop in supply of new stock to let this is helping to underpin the rental outlook for landlords pretty much across Scotland.
"Post-referendum confidence in the market has seen a surge in activity, both in demand for property and an increase in homes coming onto the market.
"Last month's announcement on land and buildings transaction tax may also have had an impact on the higher end of the market."