Glasgow firm reports 'boom' in business travel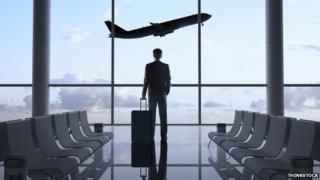 Glasgow-based Stewart Travel Management has reported a sharp rise in sales, following a "boom" in business travel.
The company said its revenues had increased by 50% to nearly £10m in the past 12 months.
It attributed the rise in business travel to a "sustained improvement" in the Scottish economy.
Stewart Travel Management added that the IT, architectural and oil and gas sectors in Scotland had been "especially buoyant".
'Growing confidence'
The firm has expanded its horizons in recent months, generating new business in the US as well as securing further accounts in Singapore and Japan.
Craig Patterson, head of Stewart Travel Management, said: "We have definitely seen growing confidence in the business travel sector in recent months. More people are travelling, more often.
"While it is always great to win new accounts, the thing that I am most proud of is that we are seeing organic growth from within our existing client base."
He added: "So far, 2014 has been a great year. But we are not going to stand still and I can see no reason why we can't maintain and even surpass the current rate of growth throughout 2015."