More women in Scotland 'saving adequately for retirement'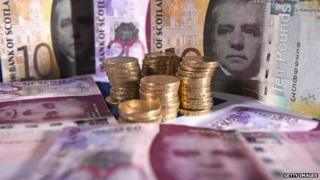 The number of women in Scotland who are saving adequately for their retirement has risen sharply as a result of recent pension reforms, according to a report.
Scottish Widows said half of the female population was now preparing adequately - up from 44% last year.
It attributed the rise to significant changes in pensions regulations, including auto-enrolment.
However, the report said the gender pensions gap had widened in the past year.
It found the proportion of Scottish men preparing adequately for retirement had jumped from 49% in 2013 to 60% this year.
Lynn Graves, retirement expert at Scottish Widows, said: "While it is still early days, the recent pension reforms are clearly helping more women in Scotland to save more for retirement, and to recognise the importance of starting this as early as possible.
"A record 1.28 million women are now employed in Scotland overall but just a third of them are currently part of a company pension scheme, with a greater tendency towards career breaks and part-time working largely responsible for this.
"The continued rollout of auto-enrolment should see this figure continue to increase, however, we must not be complacent and we need to explore how saving for retirement outside of paid employment can also be made easier so women are not left out in the cold."
Gender gap
According to the report, women in Scotland typically save £187 a month for retirement, which is about 27% less than men, who are saving an average of £256 each month.
This represents an overall gender gap of £107,000 in terms of the total amount saved for retirement over a working lifetime.
More than one in 10 Scottish women said they had never thought seriously about paying into a pension, while 32% said they never would.
The report also found that although women were saving more, there was a general a lack of awareness about retirement options, with only 17% of women in Scotland saying they fully understood pensions.
Only one in 10 women said they had used an independent financial adviser (IFA).
Nearly one in five women (18%) said they would prefer to go to friends or family, whereas a quarter said they would prefer to seek advice from an IFA.