Product sales lift Dunfermline eye testing firm Optos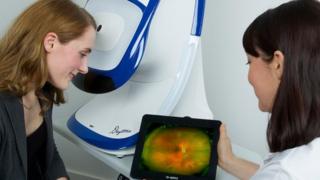 Fife-based eye testing specialist Optos has reported a rise in sales and profits after installing a record number of new products.
The company said revenue increased by 7% to $170.6m (£109m) in the year to the end of September.
Pre-tax profit tax doubled to $18.5m.
Dunfermline-based Optos said it continued to see strong demand for its products during the year, particularly its ultra-wide field retinal scanner, Daytona.
It also reported that "improved profitability and inventory reduction" helped to reduce its net debt by 69% to $12.2m (£7.8m).
Optos sells eye testing machines that can detect high blood pressure and some cancers.
Chief executive Roy Davis said its pipeline of new products was "progressing to plan" and it would be launching two "important new devices" over the next 12 months.
He added: "With the continuing growth in our existing business, underpinned by an increasing body of supportive clinical evidence as well as the upcoming launch of new products, we are confident that the company is well placed to drive customer growth, continued improvements in profitability and sustainable cash generation in 2015."