Developers submit plans for £450m resort in East Ayrshire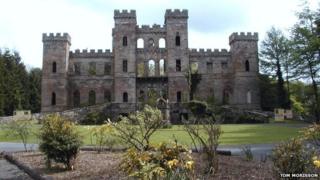 Plans to transform a former family theme park in East Ayrshire into a £450m holiday and leisure destination have been unveiled.
Developers behind the Loudoun Castle Project said the move could bring up to 2,500 new jobs to the area.
It involves transforming the 610-acre site into a resort with 450 luxury lodges, a lake and leisure development and an indoor subtropical water park.
The plans include a new Loudoun distillery.
The Loudoun Castle Project, which is led by private investment firm EIF, has applied to East Ayrshire Council for planning permission in principle for the two-phased development.
Under the plan, Loudoun Castle - which is derelict - would be stabilised and up to 1,025 new homes would be built "to enable the restoration of the castle buildings".
If the local authority gives the go ahead, work would begin onsite in 2016. Developers expect the first phase to open in 2018.
The site near Galston in East Ayrshire has lain dormant since the closure of Loudoun Castle Theme Park in 2010.
The Loudoun Castle Project is taking forward plans submitted last year by Ayrshire-based Vicon UK, which was involved as a feasibility consultant.
The Loudoun Castle Project said it anticipated about 1,000 jobs would be created in the construction phase, with a further 1,500 long-term jobs in leisure and retail.
Project chairman David Mace said: "A development of this size and scale will provide Scotland and Ayrshire with significant long-term economic benefits both in terms of jobs and tourism.
"Scottish tourism has had a great year given the international attention the country has received in 2014 through the Commonwealth Games, Ryder Cup and Homecoming Scotland.
"We are keen to maximise the legacy created, by adding a world-class all-weather leisure facility and a visitor attraction that has real stand-out.
"We will clearly attract new visitors from home and abroad and positively impact Ayrshire, making the whole of Scotland proud."