Scots 'spending more' on dining out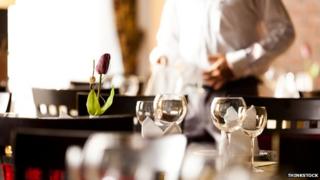 Scots are among the biggest spenders on dining out in the UK, according to a survey.
Figures released by Barclaycard suggested the average spend per meal in Scotland was £26.08, compared with the UK average of £19.64.
The amount spent by Scottish consumers during the third quarter of 2014 was 16% up on the same period last year.
There was also a 23% jump in restaurant visits north of the border, according to Barclaycard.
Only Northern Ireland saw higher average spend on dining, at £26.73.
Barclaycard managing director Chris Wood said: "With the office party season just around the corner, this is likely to give restaurants in Scotland a very merry Christmas.
"Dining out is one of the first things to be cut when we tighten our purse strings, so the fact that we're spending more is a sign that consumers are feeling more confident in their financial position."