New home completions 'at three-year high'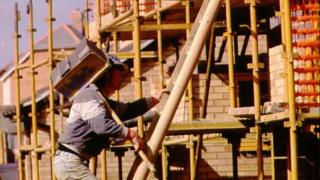 The number of new homes built in Scotland has reached its highest level for more than three years, according to new figures.
Official statistics showed that 4,583 homes across all sectors were completed between April and June this year.
This was the highest quarterly figure since 2010, and 29% higher than in the same quarter last year.
This brought the number of completions for the year to the end of June to 15,824, up by 15% on the previous year.
The Scottish government said it was nearing its target of delivering 20,000 homes for social rent by March 2016.
However, housebuilders warned that overall activity levels for 2014 may be "broadly flat", following funding problems with the Help to Buy (Scotland) shared equity scheme.
Government statisticians said the increase in new homes completed in the latest quarter was driven by a sharp rise in the number of private sector-led new-build completions.
They increased year-on-year by 46% to 3,676.
However, the number of new housing association homes fell by 7%, while there was a 19% drop in the number of new local authority homes.
The number of new houses built over the year remained well below pre-recession levels.
Housing Minister Margaret Burgess said: "Making sure everyone in Scotland has access to good quality housing is a vital part of the Scottish government's drive to secure economic growth, promote social justice, strengthen communities and tackle inequality."
'Caution and frustration'
Trade body Homes for Scotland responded with "caution and frustration" to the latest statistics.
Chief executive Philip Hogg said: "Whilst any rise in the number of much-needed new homes being built is, of course, to be warmly welcomed, what these figures show beyond doubt is the game-changing impact that the Help to Buy (Scotland) shared equity scheme had in the first half of 2014.
"However, funding for the scheme for this financial year ran out in July since which time sales have significantly dropped off.
"With the industry having to adjust production as a result, it is our view that this will be reflected in the statistics for the later part of the year.
"We therefore fear that overall activity levels for 2014 will be broadly flat, meaning that Scotland will continue to fall well behind the number of new homes required to meet the country's housing need."