Holiday parks 'worth £700m to Scottish economy'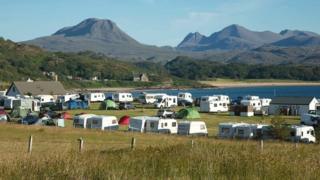 Holiday parks are worth more than £700m to the Scottish economy, according to new research.
A survey by the Scottish Caravan and Camping Forum (SCCF) also found that the sector provided almost 5,700 full-time equivalent jobs.
Its estimates were based on expenditure by holidaymakers and park owners over the 12 months to October.
The forum said it was the first time the value of the sector had been examined in detail.
It argued that the sector was particularly important to the "often-fragile" rural economy.
David Key, a representative of the National Caravan Council and chairman of SCCF, said "The committee is delighted with the results, because we have, for the first time, established the value of this sector to the economy.
"Caravan parks are important to the rural economy because of the jobs they provide and the money spent by their visitors.
"This report enables the SCCF and the sector as a whole to present robust data to the Scottish government, to local authorities and to tourism organisations."
Caravan parks in Scotland vary in size from small camping sites to large holiday parks run by major groups.