Peterhead power plant failed National Grid turbine test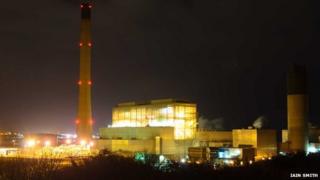 A turbine at Peterhead power plant - which is contracted to help guard against blackouts this winter - failed to generate power during a test run, it has been confirmed.
The plant is among three UK power stations under contract from National Grid to provide reserve power in case of higher-than-expected demand.
Energy firm SSE had earlier declined to comment on a reported failure.
SSE has now said the plant has since done a successful retest.
Peterhead had been asked to carry out a test on 20 November.
It has three operational gas-fired turbines which generate electricity at the station, with any two required to meet its contract requirements.
At the time, one of these turbines was undergoing repair work to fix a "minor electrical problem".
The other two turbines were both available, but one suffered "technical difficulties" and was unable to generate.
SSE said: "Any station which fails a proving test will be re-tested by National Grid.
"Peterhead was called onto the system today to undertake this re-test, which it has completed successfully."
National Grid recently signed reserve contracts with Littlebrook, Rye House and Peterhead power plants to provide 1.1GW of power if needed this winter.