Amey wins tender to maintain Scottish bridges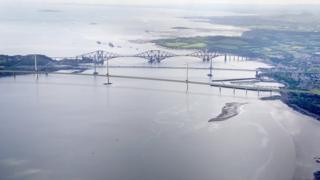 Construction firm Amey LG has won a tender to manage and maintain the Forth Road Bridge and the new Queensferry Crossing.
Transport Minister Derek Mackay said that appointing a single operating company was the "most cost-effective and efficient means" of running both bridges and adjacent trunk roads.
The contract is expected to be signed before Christmas.
It will take effect from 1 June next year.
Amey will first become responsible for the Forth Road Bridge, and later the Queensferry Crossing when it opens in 2016.
Mr Mackay said: "The trunk road network is essential for people to commute, and for goods and services to be delivered across Scotland, and there will be few more visible examples of these connections than the bridges across the Forth Estuary, which will unite north east Scotland, Fife, the Lothians and the Central Belt.
"Amey's own strong commitment to engineering skills, staff training and employee retention, all part of its integrated business model, was identified as significant during the tender process."