Scottish manufacturers 'remain optimistic'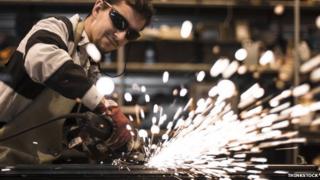 Scottish manufacturers are optimistic about the coming year despite reporting flat figures for the fourth quarter, according to a survey.
Data suggested manufacturers had seen zero change in output in the past three months.
But the forecast for the first quarter of 2015 is much more bullish, with 16% more respondents expecting an increase in output.
A net balance of 19% expect more orders and 12% forecast a rise in employment.
The Manufacturing Outlook survey was conducted by manufacturers' organisation EEF and accountants BDO.
According to the survey, more firms expect export prices to fall further in the first quarter of next year, indicating concerns over major markets in the EU and China.
However, many remain optimistic, with a net 17% of Scottish manufacturers expecting to invest in the next quarter.
'Solid year'
Martin Gill, head of BDO LLP in Scotland, said: "2014 has proved to be a solid year for Scottish manufacturers, with the highs thankfully balancing out the lows.
"As we head into 2015 it's going to be a case of 'steady as she goes', with firms viewing next year with a mixture of grit, determination and realism.
"There have been some notable areas of strength this year, especially among sectors relying on demand in the home market, which has been particularly strong.
"And, despite some uncertainty, the fact companies are maintaining their investment and hiring plans shows they have a positive view of their prospects ahead."