Shetland Composites wins tidal turbine blades deal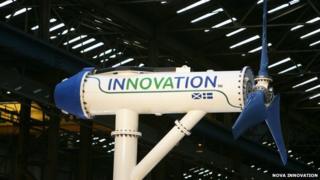 A Shetland company has won a contract to manufacture blades for a bank of tidal turbines off the coast of Shetland.
Shetland Composites secured the six-month contract from Edinburgh-based Nova Innovation.
Nova is developing five 100kW tidal turbines known as the Shetland Tidal Array.
The turbines will be developed in two phases, with commissioning of the first three devices by the end of 2015.
The devices will be installed in the Bluemull Sound site and will have the capacity to power 300 homes.
Shetland Composites has already been awarded nearly £70,000 from Highlands and Islands Enterprise towards the extension to its workshop premises in Lerwick.
Scottish Enterprise and the Renewable Energy Investment Fund (REIF) are supporting Nova Innovation's project with £1.9m in grant and loan funding.
'Big step'
Fred Gibson, from Shetland Composites, said: "This is a big step for the company.
"Up until now most of our work in the marine renewable sector has been in the development of prototype devices. Now finally these projects are scaling up and becoming commercial viable.
"The funding from Highlands and Islands Enterprise has been hugely important in helping the company realise its expansion plans.
"The extension will increase capacity which means we can take on more work and recruit two additional employees."
Deputy First Minister John Swinney said the Nova contract was "great news" for Shetland Composites and the local economy.
He added: "The seas around Scotland have the potential to provide us with a sustainable, renewable energy source.
"We will do all we can to help companies such as Nova Innovation to access these resources."