Cathay Pacific and Flybe air link deal welcomed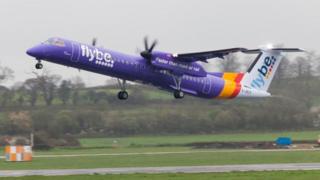 Scottish tourist bosses have welcomed a deal between airlines Cathay Pacific and Flybe that will allow passengers travelling from Hong Kong to connect to Edinburgh, Aberdeen and Inverness.
From 8 December, Flybe customers will be able to connect via Manchester Airport to Cathay Pacific's new direct service to Hong Kong.
The move is under a code-share agreement.
VisitScotland described it as a "significant development".
Chairman Mike Cantlay said: "VisitScotland was in Hong Kong last week with key players from the tourism industry, meeting with representatives of Cathay Pacific who expressed their determination to improve access between Hong Kong and Scotland.
"One of our main strategies is to continue to further develop Scotland's air connectivity and with Cathay's extensive network across China and Asia, this can happen efficiently and effectively."
Paul Simmons, Flybe's chief commercial officer, said: "Our new code-share agreement with Cathay Pacific is another exciting development for the new Flybe.
"We are now giving customers in the UK regions access to Hong Kong through Manchester Airport and relieving them of the need to undertake long road or rail journeys to the UK's congested south east hub airports."