Scottish Item Club predicts slower growth for economy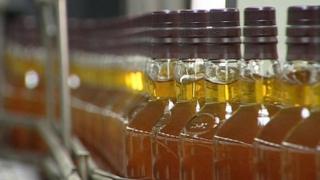 A leading forecaster has predicted that Scotland's economy will continue to grow next year - but at a slower rate.
The EY Scottish Item Club said 2014 was likely to end with growth of 2.8% - better than any year since 2007 but slightly less than the UK as a whole.
The group forecast growth of 2% next year.
It warned the economy could be blown off course by uncertainty over a possible EU referendum, stumbling whisky exports and falling oil price.
The group said the price of oil - which has fallen by about 40% since the summer - could have an impact on the North Sea oil and gas sector as well as the renewable energy industry.
EY senior partner Jim Bishop said: "UK growth has helped increase domestic demand for Scottish products, but conversely the slowdown in key emerging consumer markets like China is having an adverse impact on Scottish luxury goods exports.
"The predicted rise in Scotland's economic output is cause for cheer, but the country's narrow export base is preventing it from really taking off."
Exports 'challenge'
Other business groups have given a similar assessment over exports.
The Bank of Scotland's latest survey of purchasing managers found new export orders for manufacturers fell for a fifth successive month in November.
It said the fall illustrated "the challenge of increasing exports to a stagnating eurozone economy".
A separate report by business advisers BDO warned that key European markets continued to stagnate.
The item club's report predicted that the professional and support services sector would continue to lead the growth charge next year, with output forecast to expand by 4.3% in 2015.
Transport and communication (3.9%), construction (3.4%) and financial services (2.4%) were also forecast to grow in excess of overall growth.
Manufacturing sector
But Scotland's manufacturing sector is expected to underperform overall growth next year, with output rising by 1.2%.
Output from the public sector is also predicted to fall, driven by "a static picture in health, a small fall in education output and a continued grind in public administration and defence".
However, the report anticipated that employment in Scotland would continue to rise.
Dougie Adams, senior economic adviser to the EY Scottish Item Club, said: "The service sector remains Scotland's engine of employment creation, but the pace of job growth is likely to abate in line with economic growth and a tightening in the availability of suitably skilled staff."
Mr Adams added: "The prospect of an EU referendum and the challenge of developing a stable framework for enhanced devolution, not just to Scotland but to the other nations and regions of the UK, are becoming the main impediments to investment spending and resultant short and medium-term growth."