Deadline passes for wave power firm Pelamis offers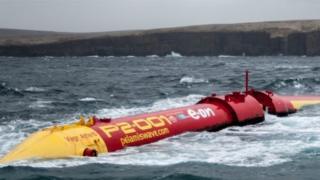 The deadline to table offers for the collapsed wave power company Pelamis has passed.
The firm went into administration last month after failing to secure enough funding to develop its technology.
Last week administrators at KPMG said they had been encouraged by the amount of initial interest shown in the Edinburgh-based company.
They said it could "take some time" after the deadline to select a preferred bidder.
Pelamis Wave Power employs more than 50 staff in the design, manufacture and operation of wave energy converters which it has been testing at the European Marine Energy Centre (EMEC) in Orkney.
Meanwhile, Aquamarine Power - also based in Edinburgh - is in the process of making most of its workforce redundant.
The company is the developer of the Oyster 800 wave energy device.
Technological challenges
Funding problems and technological challenges have been blamed for the sector's problems.
The Scottish government is hoping its new organisation, Wave Energy Scotland, can help find solutions to the difficulties faced by the industry and ensure wave power has a future.
Dee Nunn, wave and tidal development manager with Renewable UK, believes the current economic climate is hindering the industry.
She said: "It's an extremely challenging environment.
"Not only working in the sea conditions, but also financially.
"These technologies are developing at a time when we've got a privatised electricity industry and it means that the amount of money available to invest in research and development technology isn't at the same level we would have seen in the past.
"So that's part of the challenge - to get the vision of the long-term benefits these technologies can bring."
Global level
Sian George, chief executive of trade association Ocean Energy Europe, said the challenge of harnessing the resources lying off the coast of Europe is "significant".
She told BBC Radio Scotland's Good Morning Scotland programme that "at this point in time" the tidal energy sector is slightly ahead in terms of technology development.
"This year has seen extreme highs and extreme lows on the journey to harnessing the resources."
She added: "Tidal energy is a slightly more straightforward energy source to harvest. Wave power is more complex, but the reason people are still trying to harvest wave power is the prize is significantly bigger on a global level."
Ms George said that because of austerity across Europe, the private sector has less money to spend and is "drawing a line at high risk investments".
She said: "We do need a pipeline of new technologies to add to our electricity mix."