Scottish councils to share £6.5m for vocational training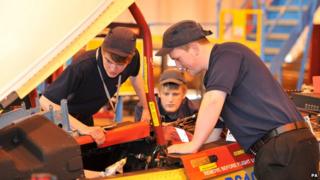 Councils are to share a further £6.5m to help boost vocational training, the Scottish government has announced.
The cash is part of a £12m pot made available by ministers earlier this year in a bid to improve Scotland's vocational education system.
A total of £5.5m has already been spent on taking forward measures recommended by a commission led by Sir Ian Wood.
The announcement comes as the Scottish government prepares to unveil its new youth employment strategy on Monday.
It will set out plans for implementing recommendations from the Commission for Developing Scotland's Young Workforce.
Sir Ian's report, published in June, made a total of 39 recommendations, including providing quality work experience, increasing recognition of colleges' role in developing the workforce and providing more modern apprenticeships.
Announcing the latest funding tranche, Scottish Skills and Training Secretary Roseanna Cunningham said the cash would be given to local authorities during this financial year.
It will go towards developing vocational pathways into work for young people, strengthening links between schools and employers, reviewing work experience to make it more relevant and improving opportunities for training in STEM subjects - science, technology, engineering and maths.
'Significant progress'
Ms Cunningham said: "Since the publication of the commission's report earlier this year, working closely with our partners, we have made significant progress in planning for a system of vocational education that is better equipped to help more young women and men into work.
"Pilots for foundation and advanced apprenticeships are already under way and interest among employers in the new Investors in Young People accolade is steadily building."
Douglas Chapman, education spokesman for the Convention of Scottish Local Authorities (Cosla), said: "Cosla welcomes funding for developing Scotland's young workforce.
"Local authorities are at the heart of all activities to get young people into sustained employment.
"The funding announced today is extremely welcome and comes after months of work with the Scottish government on taking forward the commission's recommendations."