Builders worried by planning delays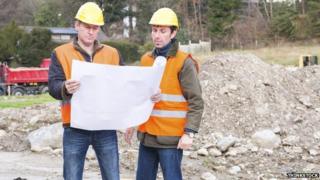 Scottish housebuilders and developers say they are disappointed by the latest figures showing long periods taken to reach planning decisions.
The criticism from the Scottish Property Federation (SPF) and Homes for Scotland followed pressure from the new infrastructure secretary, Alex Neil, to speed up councils' decision-making processes.
Homes for Scotland highlighted the time it takes to get a decision on major housing proposals has increased to more than 41 weeks. It described this as "depressing".
That was along with nearly 8000 local applications decided in the third quarter of this year, with decisions taking 10.1 weeks on average - lower than in previous year.
Scottish government statistics showed there were 61 major applications decided in July to September, and the average decision time was 33.5 weeks. That is slower than the previous quarter, at 28.9 weeks, but an improvement on the same quarter in previous years.
Allan Lundmark, director of planning with Homes for Scotland, commented on the new house plan figures: "They demonstrate that insufficient priority and resource are being allocated to the delivery of new homes at local authority level and highlight a system which falls far short of the standards of customer service, speed and efficiency that Scotland needs if we are to build more homes and stimulate economic growth.
"It is all the more frustrating given the recent increase in planning fees of more than twice the rate of inflation."
"It is hugely disappointing that after so many years of positive industry engagement and supposed planning reform, we are still battling the same old challenges and fighting for a system which encourages and facilitates housing investment rather than one which frustrates and delays it."
The SPF, representing developers, said fewer planning decisions on major proposals were made in the third quarter of this year than last year.
And the industry group said there is a big increase in the number of applications where the local council has "stopped the clock" while seeking to reach an agreement with developers.
That was up from 200 to 253, while the SPF said the average length of time to reach a legal agreement with councils rose to 46 weeks.
The Federation conceded that the average length of time to take decisions while the clock is running has come down significantly, from 17.9 weeks to 11.5.
But it called for urgent moves to improve the pace of the planning system, suggesting that it could be contracted out by council planners.
'Risky process'
Commenting on the statistics, SPF Director David Melhuish said: "Major development is a long and risky process and it is important that we have the right leadership in both the private and public sector as well as robust processes within planning authorities to deliver decisions quickly, properly and effectively in order to provide certainty to investors and communities alike.
"It is important that all aspects of the planning system - the private sector, public agencies and planning authorities - realise this challenge. Otherwise, we risk losing the potential to attract major investment in our built environment across Scotland."
Alex Neil, newly installed as cabinet secretary for infrastructure, said: "I am determined to enhance the reputation of our planning service by quickening momentum on planning performance and driving further improvement.
While he pointed to faster processing of major development applications, the Holyrood minister added: "Planning is about getting the right developments in the right place, and a consistently high approval rate shows authorities are working closely with applicants to meet that aim.
"There is however inconsistency across the country and it's clear that those authorities with longer timescales are impacting on the averages.
"I have written to every planning authority to give my comments on all aspects of their performance in the last year, and I will continue to monitor the planning statistics closely."