Klin Group boss among business leaders awarded titles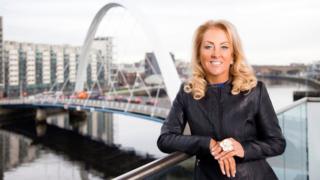 The boss of property development company Klin Group is among several prominent Scottish business figures to feature in the New Year Honours list.
Marie Macklin was awarded a CBE for services to economic regeneration and entrepreneurship in Scotland.
Aberdeen Asset Management's chief investment officer, Anne Richards, also received a CBE.
She was honoured for services to the financial services industry and voluntary service.
Scottish Chambers of Commerce chief executive Liz Cameron was also recognised, collecting an OBE for services to business and commerce.
VisitScotland chairman Mike Cantlay was singled out for an OBE for services to the tourism industry, while the owner of the Marcliffe Hotel in Aberdeen, Stewart Spence, got an MBE.
'Overwhelmed'
Ms Macklin, who is chief executive of the Kilmarnock-based Klin Group, has a background in construction, financial services and banking.
Her company was one of the first private investors in the regeneration of Tollcross in Glasgow, completing several brownfield housing developments.
She said: "Words can't express how I felt when I learned I was to be recognised in this way. I'm overwhelmed. I feel both privileged and proud to receive the award.
"I'm the first to recognise that this is also a reflection of the endeavour and commitment of those around me, who have persevered with me in taking on difficult challenges."
Ms Cameron, who has led the Scottish Chambers of Commerce for the last 10 years, said: "I have had the honour and privilege of supporting and helping businesses across Scotland throughout my career.
"Working with the chamber network has provided me with many opportunities, enabling me to meet and engage with so many exciting and inspirational people in business, education and the public sector.
"To be personally recognised in this way is truly wonderful. I owe so much to so many others who have helped me throughout my career, and am so grateful."
Anne Richards was formerly chief investment officer and joint managing director of Edinburgh Fund Managers (EFM), which was acquired by Aberdeen Asset Management in 2003.
Before joining EFM, she worked for Merrill Lynch.
Mike Cantlay has been chairman of VisitScotland since 2010.
This year the national tourism organisation was involved in the delivery of The Ryder Cup at Gleneagles and put together a programme of more than 1,000 events for Homecoming.
VisitScotland also promoted Glasgow and Scotland during the Commonwealth Games.
Mr Cantlay, who lives in Callander in Stirlingshire, said: "I'm hugely humbled. It's been an absolute privilege to lead VisitScotland, but I must stress that it has been an exceptional team effort.
"I'd like to pay tribute to the hundreds of thousands of Scots in the hospitality, travel and leisure industries who cared so passionately for our visitors during what has been an incredible year for tourism in this country."