Virgin Trains reports surge in cross-border travel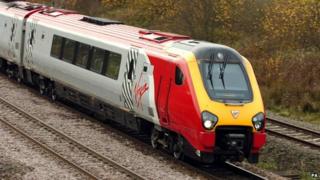 Virgin Trains has reported a surge in cross-border rail travel following investment in additional seating capacity.
The West Coast Main Line operator said passenger numbers on its Anglo-Scottish services rose by 11% last year.
The rise came after Virgin made an additional 3,000 seats available every weekday.
Virgin said its trains now accounted for more than a fifth of journeys made between Glasgow and London.
It added that the figure was significantly up on 2008, when fewer than one in 10 journeys were made by train.
Virgin based its comparison on CAA data on air travel between Glasgow International and the London airports of Heathrow, Gatwick, Luton, London City and Stansted.
---
ANALYSIS
Douglas Fraser, BBC Scotland business and economy editor
Virgin Trains may have been helped by pricing at its airborne rival, with the end of direct bmi competition to British Airways on the Glasgow-Heathrow route.
Air capacity between London and north-west England has also been affected by the rail-based alternative.
In addition, these figures reflect the extraordinary passenger growth across Britain's rail network, even through the recession and years of squeezed household income.
The rail operators will argue that's the benefit of private sector discipline and their marketing initiative. It may also be that investment in the West Coast and other lines by Network Rail has made the train a more reliable option.
But it's not always comfortable, with trains getting so busy. And if growth continues at the rate being reported by Virgin Trains, it's going to make the case stronger for building a high speed line from London, and not stopping until the track reaches Scotland's central belt.
Speed would be nice to have, but it is capacity that will be needed, and probably it will be needed long before such a line can be built.
---
Virgin's overall Anglo-Scottish figures include routes which do not cross the border, such as London to Preston.
However, the company said cross-border services performed particularly strongly, with Glasgow-London passenger numbers increasing by 18% to just over 600,000 last year.
The company said that its market share was also increasing on the Edinburgh-Birmingham corridor.
Last year, passenger numbers on that route rose year-on-year by 34% to 50,000.
Virgin said capacity was increased by a change in rolling stock in December 2013, which saw some five-carriage Super Voyager trains working the Anglo-Scottish route replaced by nine or 11-carriage Pendolinos.
'Fantastic endorsement'
Virgin Trains' general manager for Anglo-Scottish services, Gary Iddon, said: "These figures are a fantastic endorsement of the work we've done on the route.
"Our team have worked really hard to put in place a service that customers value and want to return to.
"We've done a lot of work with partner organisations to promote rail travel and the additional capacity means that we have far more low-priced fares to offer passengers."
Scottish Transport Minister Derek Mackay said: "Scotland is currently embracing the railway more than at any time since the Victorian era, and these new figures from Virgin Trains exemplify this new golden age of train travel."