Scotland's economic growth slows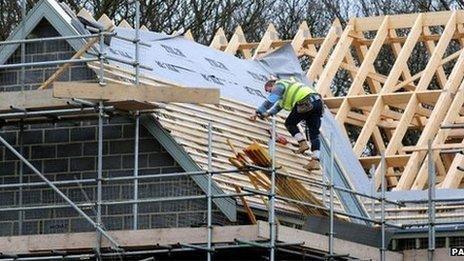 Scotland's economy grew by 0.6% in the third quarter of 2014, according to official statistics.
That was a slower rate of growth than in the previous three months although on an annual basis GDP grew by 3%.
The services sector, which accounts for nearly three-quarters of the economy, expanded by 0.6% in the latest period.
Figures released by Scottish government statisticians also showed that the production contracted by 0.7%, while construction output increased by 3.2%.
Theses latest figures cover the period between July and September when Scotland played host to two major sporting events - the Commonwealth Games and the Ryder Cup.
The statisticians say they do not attempt to "quantify the effects of these events" because it is "impossible to provide and accurate estimate of what growth would have been in the absence of these events".
However, they say some of the economic benefits will have been captured as a result. For instance, there was strong growth of 2.8% in accommodation and food services.
The figures also cover the period leading up to and during the Scottish independence referendum.
The Secretary of State for Scotland Alistair Carmichael said: "Recent business surveys however show Scotland's economic growth is set to continue into 2015 and our labour market is expected to build further on the record numbers we have seen.
"We will take responsibility to help those who fall out of work ensuring they can make the most of the opportunities being created in communities across the country."
The Scottish government said growth in the third quarter of 2014 was the ninth consecutive quarter of expansion.
Cabinet Secretary for Fair Work, Skills and Training Roseanna Cunningham said: "A 3% expansion in our economy over the year is a clear demonstration of our growing strength, not least in the construction sector.
"Our work on jobs and growth is continuing to pay off with record employment levels increasing this month and female employment also reaching a record high, welcome evidence of our on-going work on narrowing the gender gap."