UK Treasury fast-tracks consultation on North Sea tax cuts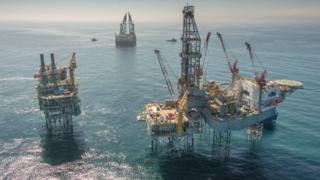 The UK government has announced it is fast-tracking a consultation on a new tax incentive for oil and gas firms.
The investment allowance, which was first announced in the Autumn Statement, is designed to simplify the existing scheme of field allowances and stimulate offshore investment.
Ministers said the plan should reduce the tax rate on new projects from 60% to between 45% and 50%.
The consultation is expected to last several weeks.
It will seek views from industry on how the allowance can best support investment in North Sea oil and gas projects.
The government said it had been fast-tracked at the request of industry.
'Positive signal'
Industry body Oil & Gas UK welcomed the move as "a positive signal to investors".
But it also called for the new incentive to be brought into effect from the Budget in 2015.
Chief executive Malcolm Webb said: "We are encouraged to note that work on the Investment Allowance announced in the Autumn Statement is progressing.
"However, a reduction in the headline rate of tax is also essential to really improve the international competitiveness of the UKCS (UK Continental Shelf).
"Given the maturity of this basin, I'm afraid there will be no second chances."
'Difficult times'
Chief Secretary to the Treasury Danny Alexander said: "These are difficult times for Scotland's oil and gas industry, which is why I announced an ambitious package to support this hugely valuable sector at last month's Autumn Statement.
"Oil prices are inherently volatile, that is why it is important that we take a long-term view on the issue: supporting the industry through encouraging investment and protecting the UK's public finances through a sustainable tax regime, while ensuring that the 375,000 livelihoods that depend on the UK's oil industry are protected for many years to come."
In his Autumn Statement, Chancellor George Osborne announced a series of tax measures for the oil and gas sector.
They included plans to cut a supplementary charge on oil firms' profits from 32% to 30%.
'Cluster' allowance
Other new measures included a new "cluster area allowance", aimed at encouraging companies to invest in ultra-high pressure and high temperature clusters.
Derek Leith, UK head of oil and gas taxation at accountancy firm EY, said: "If the oil and gas industry had produced a wish list of measures it would like to see introduced in the wake of the Autumn Statement, then a new investment allowance would have been near the top.
"This could lead to the most significantly positive oil and gas fiscal change since 1993 and the chancellor, in expediting the consultation process, demonstrates the new macro-economic perspective from which the government is viewing the UK Continental Shelf."