Transport Scotland in new free bus travel deal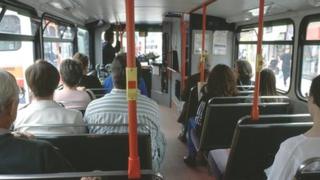 A deal worth £414m has been reached to secure free bus travel for elderly and disabled Scots over the next two years.
Transport Scotland and the bus industry agreed terms for reimbursing operators for providing concessionary travel from April.
Scottish ministers said the deal reflected expected growth in demand, fares and costs, and falling fuel prices.
They added it would make a "real difference" to 1.2 million users.
The agreement with the Confederation of Passenger Transport (CPT) builds on a deal reached two years ago.
Operators currently receive 58.1% of a single adult fare from the government for each journey, with the scheme having a budget of £192m this year.
In 2015-16, the budget for the scheme will rise to £202m, with the reimbursement rate dropping to 57.1%.
The following year the budget will rise again to £212m, but there will be another slight drop in the reimbursement rate, to 56.9%.
'Greatly valued'
Transport Minister Derek Mackay said: "Concessionary travel is a key part of the Scottish government's social wage and makes a real difference to many of the 1.2 million national entitlement card holders, including our elderly and disabled.
"Research shows the National Concessionary Travel Scheme is greatly valued by users.
"Card holders themselves say it helps them financially, gives them a greater sense of independence, reduces feelings of isolation and gives them more confidence in their own ability to travel."
CPT Scotland director George Mair said: "Today's agreement signifies the end of a thorough and fact-based look at National Concessionary Travel Scheme reimbursement, which should ensure that the budgets for the next two years more closely mirror actual costs.
"This gives bus operators a welcome degree of certainty and signifies a pathway for future such discussions."