'Modest' Scottish construction growth predicted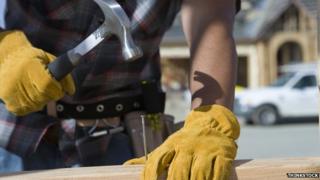 Scotland's construction industry is expected to grow at a "considerably lower" rate than the rest of the UK over the next five years, according to a report.
The Construction Industry Training Board (CITB) predicts growth of 1.1% a year on average between 2015 and 2019.
The figure compares with a rate of 2.9% in the rest of the UK.
CITB attributed the "relatively modest" growth forecast to an expected decline in infrastructure activity from 2016.
The report by CITB's Construction Skills Network said: "Large projects such as the Queensferry Crossing, Borders Railway and M8/M74/M73 improvements are all due to complete during the forecast period and, while there are new schemes on the blocks, they are unlikely to compensate in full for those leaving the pipeline."
Despite this, the organisation said infrastructure investment in Scotland remained at a historic high.
It pointed to upcoming projects such as the £200m Dumfries and Galloway Royal Infirmary and a new campus for the City of Glasgow College.
CITB Scotland is to ramp up a campaign to attract more workers to construction in order to meet the annual workforce requirement of 5,700 over the next five years.
It said 1,434 new apprentices had started working in the industry in 2014.
Supply chain 'pressure'
Over the next five years, expansion is expected to be strongest in the private housing sector, with an average annual growth rate of 5.4% - although this follows eight years of decline between 2005 and 2013.
Ed Monaghan, chairman of CITB Scotland's advisory committee, said: "The overall market sentiment is that construction generally has turned the corner, with many businesses reporting improved order books and housebuilders enjoying a more active market.
"All of this has put pressure on the supply chain, in particular skilled labour."
A recent survey by the Scottish Chambers of Commerce found construction firms experiencing a rise in work-in-progress was at its highest level last year since 2007.
Firms reported an increase in contracts, investment and work in progress in the final months of 2014.