Miller Group chief executive Keith Miller to step down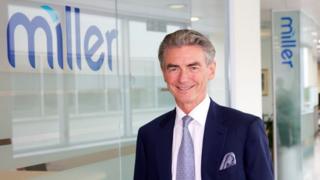 The boss of property firm Miller Group has announced he is stepping down at the end of March after more than 20 years as chief executive.
Keith Miller said the time was right to leave his role following three years of "tremendous growth" for the company.
His post will not be filled after his departure. Instead, the chief executives of Miller's three divisions will report directly to the board.
Edinburgh-based Miller specialises in housebuilding and commercial property.
Keith Miller said: "We have strong management teams in place in Miller Homes, Miller Developments and Miller Mining, each of which is led by its own chief executive.
"I am looking forward to being able to report further impressive performance from Miller Homes and our other businesses when we announce our final results for 2014 in a few weeks' time.
"The group has experienced tremendous growth over the past three years and the time is right to pass the leadership of our businesses to the respective management teams."
Flotation move
In October, Miller Homes shelved plans to float on the London Stock Exchange, blaming market volatility.
It had intended to raise about £140m to reduce debt and increase flexibility by selling off at least 40% of the company.
Miller Homes focuses its operations in central southern England, the Midlands, the north of England and central Scotland.
Its parent company, Miller Group, was founded in Edinburgh in 1934 and initially focused on housebuilding in and around Edinburgh before expanding into England in the late 1940s