Scottish airports report flying start to year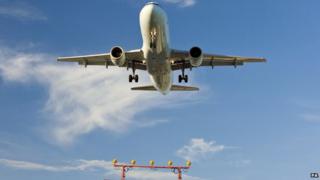 Scotland's busiest airports have reported a flying start to the year in passenger numbers.
Following a record-breaking 2014, Edinburgh said 628,285 people used the airport last month - an increase of 7% on the same period last year.
Glasgow saw 485,685 passengers travel through its doors in January - representing an increase of 11.4% on last year.
Aberdeen's figures rose only slightly following "testing" weather conditions.
Edinburgh said domestic traffic was lifted by 7.2%, largely as a result of Ryanair's new three-times daily service to London Stansted and BA Cityflyer's London City service, which is now operating 12 times per day.
International passenger numbers were also boosted by Ryanair's new four-times daily service to Dublin and Qatar Airways' five-per-week service to Doha which started last May.
The airport's operators said they were confident 2015 would be just as successful as last year.
Chief executive Gordon Dewar said: "Following our record-breaking year in 2014, we've started 2015 with a spring in our step and a renewed focus on what we want to deliver for our passengers.
"We saw a great performance from our new domestic services last month, with more new routes launching this spring, and are continuing to develop our facilities for passengers and airlines.
"The next few months will be an exciting time for our airport."
Glasgow Airport reported international passenger traffic grew by 18.1%, bolstered by the performance of both Ryanair's and Wizz Air's direct services to Eastern Europe.
Airlines such as Icelandair, Emirates and United also reported an increase in demand.
Domestic traffic was up 6.6% compared with the same period last year, following British Airways' decision to add extra capacity on its Heathrow and London City routes.
Managing director Amanda McMillan said: "It was always going to be a challenge to follow 2014's performance, but we have managed to continue where we left off and record yet another month of growth.
"January is traditionally a quiet period but we experienced a marked increase in demand for international travel, particularly to some of the European destinations we have added in recent months, including Wroclaw and Katowice.
"Our focus for 2015 is to ensure we build on last year's success by securing further new routes and services."
'Challenging weather'
Meanwhile, Aberdeen Airport's passenger numbers last month were up slightly amid challenging weather conditions.
The airport said there was a 0.5% increase on the same month last year as it saw 252,561 people passing through the terminal.
Managing director Carol Benzie said: "We are delighted to see passenger numbers holding strong despite testing weather conditions throughout January, including high winds, snow and ice.
"Historically January is one of the quietest months of the year for us following the peak of December's holiday season and we are pleased to report a sustained increase."