PDG Helicopters management buyout completed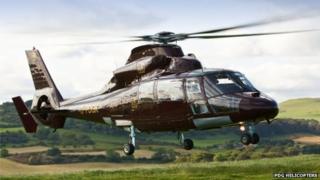 On-shore helicopter company PDG is looking to expand, following a £20m-plus management buyout (MBO).
The Inverness-based firm, which employs 85 people, specialises in aerial support services for infrastructure and construction projects.
The deal was backed by private equity investor LDC, which will take a majority stake in the business.
The investment will be used to increase capacity and invest in the fleet to support the company's continued growth.
The group recorded sales of £16m for the year to the end of September.
It was established in 1994 following a merger between PLM Helicopters and Dollar Helicopters, and operates from bases in Inverness, Glasgow, Wolverhampton and Dublin.
Recent projects include the upgrade of the Beauly to Denny power line.
'National footprint'
The MBO was led by PDG chief executive Jerry Francis, who has been with the business for almost 20 years.
LDC Scotland head Mark Kerr said: "Jerry and the rest of the PDG management team have done a great job over the last few years transforming PDG into the clear market leader in its field, providing principally a range of specialist inspection and construction related aerial services.
"It has the largest helicopter fleet of its kind in the UK and a national footprint differentiating it from many smaller players.
"The company has significant potential to further increase its presence and capitalise on the growing demand for aerial support from utilities and on large infrastructure projects."