Jobs market 'cooling', says Bank of Scotland report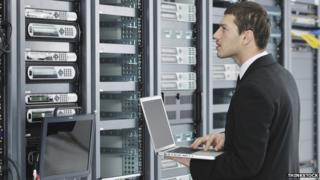 Scotland's jobs market showed signs of "cooling" last month, according to a new report.
The Bank of Scotland's Report on Jobs suggested January saw the slowest rise in permanent appointments for 22 months.
Recruitment consultancies also reported a slight fall in temp staff billings.
Demand for staff increased at a reduced rate while the availability of candidates continued to deteriorate rapidly, the report found.
However, it added that overall the jobs market continued to improve.
The bank's Labour Market Barometer fell from December's 63.2 to 60.0 in January, its lowest reading since September 2013 and "comfortably below" its 2014 average of 63.9.
Any figure above 50 suggests an improvement in market conditions.
The equivalent barometer for the UK as a whole also eased at the start of the year, falling to its lowest level since November 2013.
Nevertheless, at 61.1, it pointed to a more marked improvement in conditions than in Scotland for the second time in the past three months.
Regional analysis suggested that only Edinburgh and Dundee recorded growth in permanent appointments last month, while Aberdeen saw no change and Glasgow a marginal decline.
Aberdeen registered improvements in both permanent and temporary staff availability, while the sharpest deteriorations on each front were recorded in Dundee and Edinburgh respectively.
Growth of permanent salaries was led by Edinburgh, while Dundee recorded the most marked rise in temp pay rates.
The IT and computing sector saw the strongest increase in demand for permanent staff north of the border, while nursing/medical/care recorded the fastest growth in temp job vacancies.
'Signs of cooling'
Bank of Scotland chief economist Donald MacRae said: "Scotland's jobs market continued to improve in January but showed signs of cooling.
"The number of people appointed to permanent jobs rose but temporary appointments fell.
"Vacancies continued to increase across most sectors accompanied by a rise in starting salaries, although lower than December's near record high.
"This Report on Jobs suggests the Scottish economy continues to grow at the start of 2015 but at a slower rate than the end of last year."