Historic Edinburgh shopping street set for makeover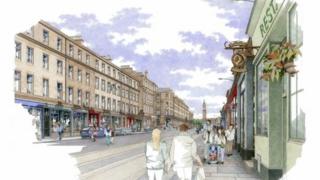 A historic shopping street in Edinburgh's West End is to get a makeover worth more than £560,000.
West Maitland Street will see its shopfronts improved under a joint initiative between Edinburgh World Heritage, the property owners and the City of Edinburgh Council.
The shopping street dates back to 1805, and is situated in a key area within the city's World Heritage site.
The project aims to renovate and restore up to 16 shopfronts.
Adam Wilkinson, director of Edinburgh World Heritage, said: "The restoration of historic shopfronts is a prime example of how we can use the city's heritage to support its businesses and improve the backdrop to people's everyday lives.
"We're really pleased that the shop and building owners have taken the major step of coming on board with the first phase of this scheme and look forward to others joining in later phases."
The work will largely consist of new joinery, and in some cases installing metal gates and re-painting.
The cost of the project is estimated at about £566,000, with Edinburgh World Heritage offering a grant of up to £425,000 - half of which will be repayable after 10 years or if the property is sold.
The City of Edinburgh Council is also providing financial support, with the remainder of the costs being funded by the property owners.