Law firm Aberdein Considine is to expand into Scotland's central belt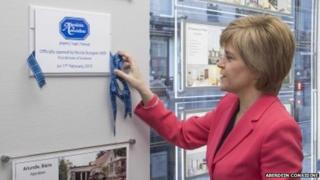 An Aberdeen-based law firm is expanding into Scotland's central belt with aims to expand earnings and recruitment.
Aberdein Considine has opened new offices in the north-east, while planning a legal centre in Glasgow.
The firm plans to hire 100 more staff within five years, to add to its 350 employees. It also plans to boost turnover from £20m per year to £35m.
Commercial property lawyer Paul Jennings has become a new partner and John Perry is chief financial officer.
While already having property offices, it opened a legal office in Edinburgh 18 months ago, and more recently acquired the Muirhead Buchanan partnership in Stirling.
Two new offices on Aberdeen's Union Street were opened by Nicola Sturgeon on Tuesday - one a flagship property branch and the other a pension advice centre.
The first minister, a lawyer by training, said the legal sector, already worth more than £1bn to the Scottish economy, can use the de-regulation of its business model, for which legislation was recently enacted, to help it grow further.